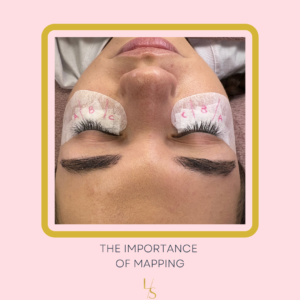 Mapping a client is important, this gives the client even lashing and we can create different looks and styles.
​
We always evaluate closely, the lengths of the natural eyelashes and follow what the client has naturally, only giving the client 1/3 extra length than the natural lash (in some instances, you may only match the natural lengths and you can in fact lash shorter to achieve certain styles, a cat eye is an example)
​
​To discover what lengths to use, you will need to measure the longest lashes.
We can do this with either a ruler or by picking up an assortment of sizes and bringing them physically into the lash line to make a visual estimate of 1/3 past the tip of the natural lash.
​
REMEMBER WHEN ISOLATING TO ANALYZE EACH LASH AND FOLLOW THE RULE OF ONE THIRD.
Occasionally, you will have a client that naturally possesses the same long length all over and it will be up to you whether you give her 1/3 of extra length almost completely over her lash-line or if it would be more subtle to create small, medium, and large sections.
​
Just because you can place 1/3 length on lashes, doesn't mean you always should.
For now, we will follow the 1/3 rule for the majority of the lash-line and give her what is called "length all over", and later discuss in what cases we would change this.
Please note that my timing would also be different, for example, I would perhaps give section A 1 hour and 15 minutes, then 10 minutes for each of the other mini sections.
​