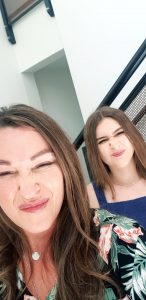 May I begin by wishing you all the happiest of New Years!
Today I am having a quiet day and let me tell you that is a rarity in my home, I do not have anything "scheduled" as such, although I actually have a lot of work to do, but I have just decided this morning to have a day of quietness and reflection.
You see I began my morning with a 6am Pilates session and bumped into an old acquaintance whom I had not seen since covid, we took our chat outside after class and caught up, she asked me how my year had tracked and whilst I was re-living my year, it dawned on me what a busy, life changing year I have had. I got a little teary as she told me "well done" I never realised you had that going on and I know so many of you are in the same boat.
Now at home I have begun researching different classes and mentorships for myself, so that moving forward into 2021, I am mentally calm and positive, physically strong and healthy as well as being a good parent, a good daughter, a good friend, a good educator, a good mentor… generally, the best version of myself.
I will also schedule myself some challenges as I really want to see myself improve and grow in areas. One long standing challenge of mine has been public speaking and being in front of camera, for those that know me, perhaps been in one of my classes, you may think this is an area I do well in (I love to talk!) but those that have known me for a long time, you would have witnessed a not so courageous Jodie (I have improved greatly, but I still have a way to go!)
I recall almost 12 years ago, I was filming for Lash Sublime and I practiced so very hard and every time the camera was on, my blood would rise to my face and I just could not catch my breath. I forgot all my lines and it was just a waste of time and money.
I recall the photographer trying her hardest to make me relax, asking me to repeat "My name is Jodie and I love Jelly Beans, but you know what? I hate Jelly Beans! and it does not come naturally but it won't stop me from trying.
I think as I have aged and become more comfortable within myself, I have improved, I have discovered my fear is not the speaking itself, yet worrying what others think, and being judged. These thoughts have not disappeared completely, but my self-worth has grown and hopefully this year I learn to put that completely to rest.
Much love and luck for 2021
Jodie x