Lash Sublime Couture
Our mantra is healthy lash perfection.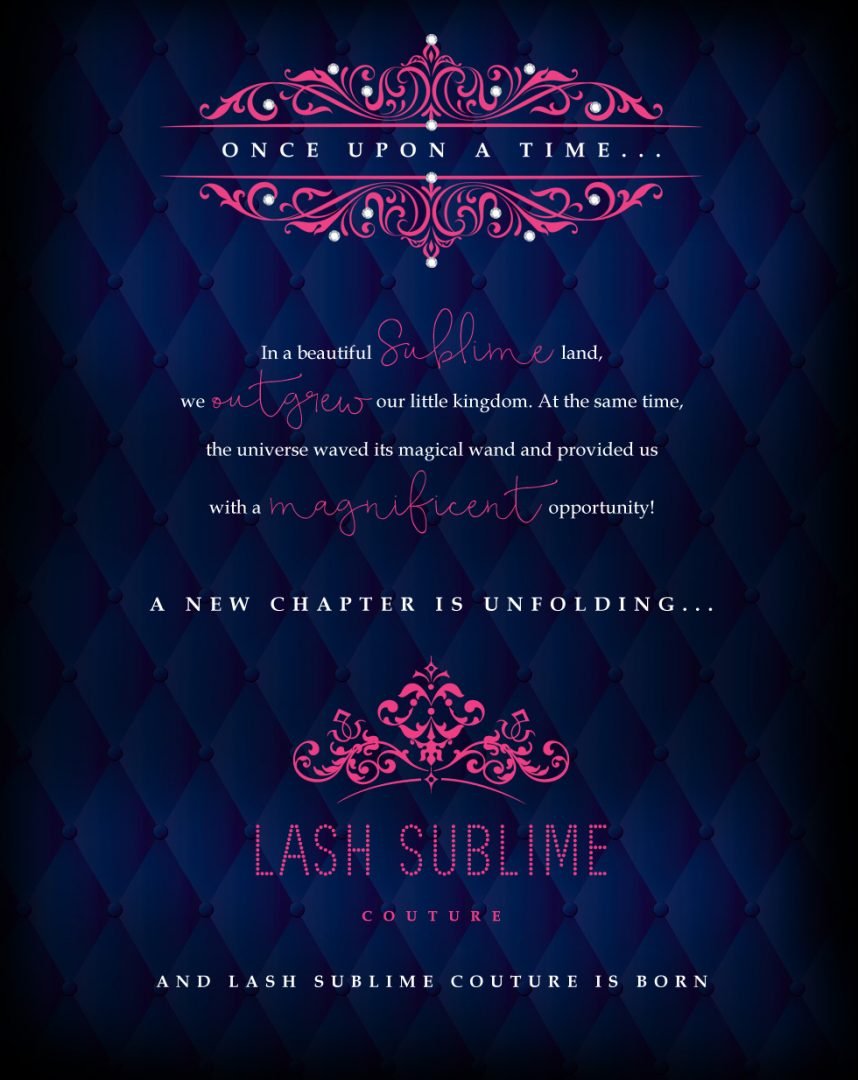 Aesthetic Artistry
Experience premium lashing, brow artistry and cosmetic tattooing at Lash Sublime Couture, our sparkling salon Aesthetic Artistry on Perth's high-end fashion strip. We strive for perfection with our bespoke lash extensions, with in-depth assessments to create the most perfect peepers just for you. Just drift into a peaceful slumber as we work our magic and…. Voila! Fluttery lashes fit for a fairytale princess.
Lashes
| Name | Description | Price |
| --- | --- | --- |
| Quick Fix | An hour of lashing. | $99 |
| Natural Classic / Light Volume | A natural classic / volume lash – Imagine lashes so delicate, tender and subtle you will have people wondering. | $147 |
| Medium Full Lashing | A medium to full volume lash – You don't have to die to go to heaven. This would be our most popular lashing as we aim to cover 80% – 90% of your natural lashes with divine beautifully crafted soft tender bouquets of lashes. This lashing is purely divine and will take approximately 2 hours to create. Lasting approximately three – four weeks. | $249 |
| Full Lashing | Heart-Stopping- An extreme deluxe volume lash – Not everyone possesses the lashes to carry this treatment. We aim to lash 100% of your lashes for your ultimate occasion. This lashing will encompass 2.5 – 3 hours and will last approximately three – five weeks. | $349 |
Lashes
Name
Description
Price
Quick Fix
$99
Natural/ Light Volume
$137
Medium / Full Volume
$179
Full Volume
$237
Lash Recovery (85 minutes)
At AA we are Lash Specialists and your lash and brow health is extremely important to us. If you have not had the same care taken elsewhere previously, we can help with our gentle removal, treatment plan, and restoration to former glory. Consult, Removal and Treatment plan.
$79
Lash Etiquette
To achieve best results we ask you arrive 10 minutes prior to your first appointment so we can discuss our treatment plan and care.

Please do not consume caffeine prior to appointment as our wish is for you to relax. Please come with makeup free eyes, to ensure great lash adhesion, we need your lashes to be squeaky clean. Please remove contact lenses. Upon booking your first appointment with us please let us know of any previous allergies, whether you have fair lashes or if you require a removal.

Cancellation Policy; All new appointments require a booking deposit to secure the appointment. From the moment you book your appointment we commit to holding this position for you. If the booking is cancelled within 24 hours the booking deposit will be forfeited. To our loyal princesses, a cancellation fee of 50% will be added to your next appointment.
Brows
Name
Description
Price
Brow Design (75 minutes)
Including full assessment, consultation and design. Brow artistry is the art of uncovering (and recovering) the full potential of each individual's brows, one eyebrow at a time. This is achieved through the Master Brow Artist's vision, attention to detail, and the creation of fluid, sweeping lines. The result is a uniquely complimentary brow shape that enhances your features and natural beauty, transforming your appearance instantly.

With the use of real skill, knowledge, and patience, the Master Brow Artist can achieve miracles that were previously unattainable.

$99
Brow Maintenance
Two – Three weeks (30 minutes)
$59
Four weeks (45 minutes)
$75
Cosmetic Tattoo
By Invitation Only
Brow, Lips and Liner.